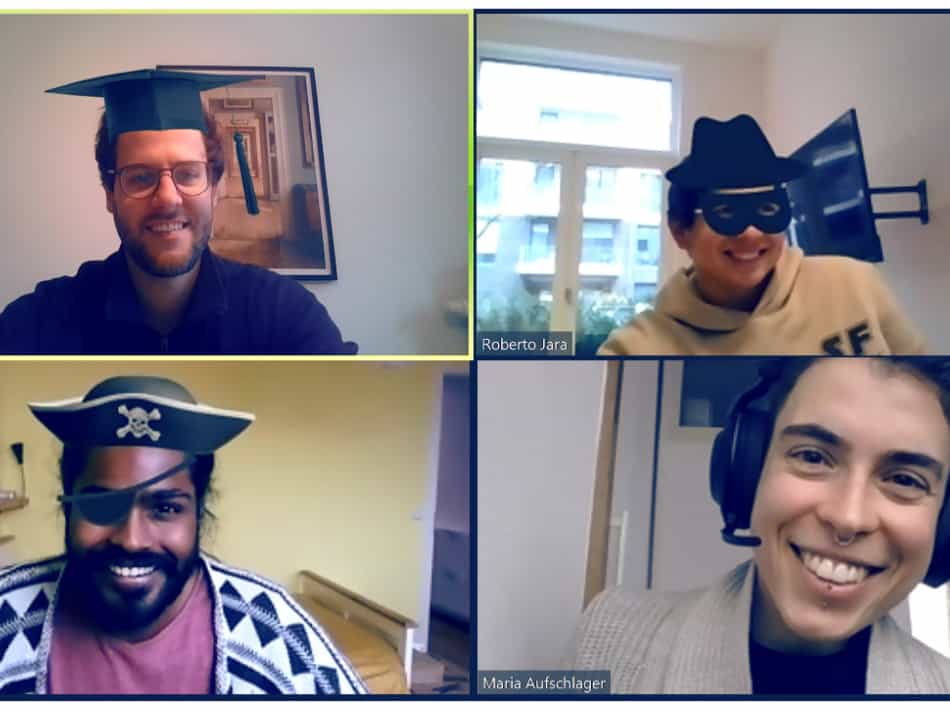 The Pandemic Doesn't Isolate Our Team
The pandemic and the shift to working from home has undeniably increased the feeling of loneliness and isolation around the world. At audibene, we were already flexible with remote working before COVID-19, but many people still chose to come to the office daily. We used to have collaborative sessions in our themed meeting rooms, coffee breaks, barbeques on the terrace and table football competitions. Real friendships were formed in our offices, and trips and celebrations were so legendary that they went down in audibene history.
We didn't want this to change, and we weren't going to be kept apart.
After speaking with our colleagues, we realised that there were 4 main aspects that people were missing during COVID-19. This is how we solved them:
We wanted to make sure that people at audibene still got the chance to meet people that they had never met before. With a thriving expat community, a variety of teams and constant growth, there are always new and interesting people to connect with.
This is why we introduced Lucky Lunch – a monthly Zoom event where colleagues from all over the company can connect with each other over their favourite food, ordered through Takeaway Pay. We talk about our projects and passions, and sometimes even come up with the next big idea!
Slack and Zoom are our favourite isolation-saving tools. We connect with each other through online coffee breaks, which have proved to be even more interesting than the ones in the office! Now that the breaks are online, we can connect with colleagues in any of our 11 countries and get to know them a little better.
Whether you would like to make friends in India, Canada, or South Africa, we're all open to a quick Zoom coffee. Even better… the friends you make there now could be potential international exchange buddies after COVID-19!
Prefer to have a focus, rather than just having food and drinks? Jana, Nino and Manja (Partner Management) have introduced a variety of social activities such as a book club, cooking club, and a mindset and wellbeing group. The ingredients for the cooking club and the chosen book for the book club are covered by audibene, so all we need to do is join the call and have some fun!
Ja? We offer a language tandem with over 60 participants! Our German-speaking colleagues have the opportunity to connect with learners and have a chat in English, Spanish, French, Russian… and German to support the learning experience of their colleagues! The tandem works for both sides.
Ein bisschen? It's more difficult to practise German with everything closed! Our intermediate and advanced German classes, in collaboration with Eszett, are led by Diethild. Diethild has been so excited to move to online teaching since she even wrote a masters paper on the subject. Her weekly classes teach the German language and culture and are worth looking forward to, especially the inside jokes. We'll give you 5 points if you can tell us which milk is normal milk!
We Like to Move It (Move It)
Before the pandemic, we offered a cooperation with Gympass – a paid monthly subscription that enabled our team to access sports and wellness facilities. Gympass now offers a free membership that can be used at home through mindfulness, fitness, health and yoga apps.
Some people (myself included) only enjoy doing sports as a group, where we can motivate and connect with each other. Lena (People Team), Manja (Partner Management) and Bujar (Tech Team) noticed this and decided to launch their own online groups.
Thanks to Lena, we offer yoga and mindfulness classes to keep us focused and grounded while the world seems to be in a constant state of change. Manja formed a running club on Strava and has created a huge challenge for us – to run the distance between all of our partner audiology stores. The audibene Movers Club, created by Bujar, enables us to share all of our progress and sport stories on Slack, just like a Facebook group!
For those who really miss the gym, we have a third offering. We've partnered with Vation to provide online personal training, personalised workout plans and expert advice for a discounted price.
Colleagues from diverse groups are more likely to feel isolated from their communities during COVID-19. We believe in the power of diversity, and we wanted to make sure that we provided lasting support.
Anna (Sales Team) and I (People Team) launched employee resource groups to support new parents, expats, and LGBTQIA+ colleagues.
The new parents' group supports people on parental leave, keeping them in the loop with audibene news and addressing any questions or concerns about returning to work after parental leave.
The Pride @ audibene group is on a mission to create an inclusive culture through LGBTQIA+ visibility and knowledge sharing, and we have fun while doing it!
Visas, accommodation in Berlin and German memes form the basis of the Expat Life group. Primarily based on Slack, we have a zoom call every month to address a major topic or just get to know each other better.
Many of these benefits are internally run, and we're very grateful to our colleagues for hosting, organising, and sharing their skills.
At audibene, you are in charge. We are always open to new ideas and groups from our team.