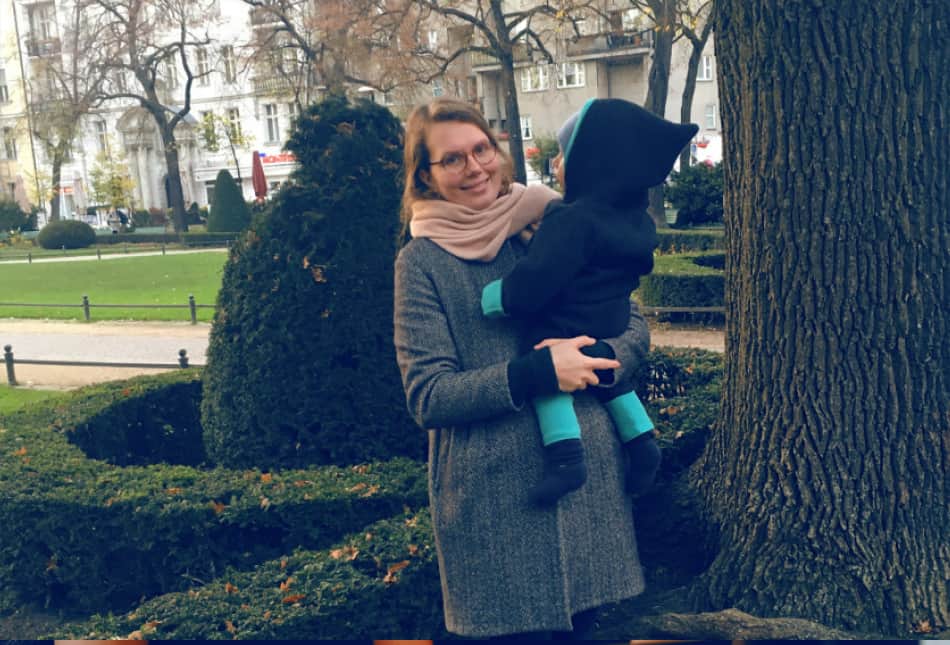 Returning to Work After Parental Leave
Laura Göhner, Team Lead Sales Recruitment, and Vera Schlegel, Head of People Development, recently returned to the People team after their parental leave. In this article, they share their journey within audibene and experience of returning to work after parental leave.
Could you tell me about you role and your journey within audibene?
Laura: I started at audibene as an HR Business Partner, and I've been at audibene for two and a half years. I worked on recruiting for marketing, operational and internship roles, while also working on people development projects. My personal focus was on improving our candidate experience and hiring quality, which I guess leads into my new role. Upon returning to work after parental leave, I've been promoted to Team Lead Sales Recruitment!
Vera: I joined audibene as an intern in 2012, at the very beginning of the company. I'd just finished my Bachelor's degree and was contemplating doing a Master's degree. My goal was to work somewhere meaningful, so I did internships during my Bachelor's in non-profit companies. I saw an advertisement for an internship in administration at audibene and decided to apply- I really just wanted to get an understanding into the business model. Marco Vietor, Co-Founder and Managing Director, and Marco Wiesmann, Managing Director, actually conducted the interview in Marco Vietor's living room… this was their office at the time! What convinced me to join the company was their interest in my experience, I really felt that they valued what I had done. This was combined with their vision and passion for audibene.
audibene was such a small company at the time that we all needed to be responsible for the phone lines! If the audiologist was available, the call went to them. If not, the call went to Marco Vietor. If both lines were busy, the call went to me! I used this experience to develop best practices and build a structured call-template. Eventually, I decided to pursue a Master's, but I wasn't ready to leave audibene yet, so I continued as a working student. I took a short break from audibene to study in Mexico, and then finished my studies in 2015.
That was when I got a call from Paul Crusius, Co-Founder and Managing Director who asked me to train and coach new joining sales consultants and build an onboarding journey with training and coaching. I worked with a team to develop the Sales Academy in Germany and the US, and then, in 2016, I was promoted to Head of Sales Academy. In 2018, I built up our new office in Mainz and became sales team lead for the Mainz sales team. With that practical experience I went back to improve and design new trainings for the Sales Academy while also implementing a sales team lead academy for new sales teams leads. Furthermore, I was coaching new and existing sales team leads. In addition, I designed the "Systemic Business Coach (IHK)" together with the Head of People Development at the time, and was implementing it as a trainer for our first sales team leads.
What was taking parental leave like?
Laura: I was really worried about telling the team that I was pregnant because I'd only been working for audibene for three months! I decided to tell the person who hired me- Marco Wiesmann. I was pleasantly surprised at how genuinely happy and enthusiastic he was for me and over the next few months, a lot of people approached me to congratulate me. It really made me feel like I'd made a good decision to join audibene, and I decided to put all of my energy into my job to achieve as much as I could in the eight months before I left for parental leave. I planned to take a year of parental leave, but when I was supposed to return, I still hadn't been able to secure a spot at the kindergarten! It can be quite difficult to find a Kita spot, and I mentioned it in one of my regular catch-ups with the team. They were super flexible and allowed me to extend my parental leave until I could find a spot. Right from the beginning, they have been really supportive and I'm so happy to be a part of a company that was willing to be so flexible.
Vera: I just wanted to keep working! I kept coming to the office until I couldn't use the U Bahn anymore- it was such a hot summer that it became impossible for me. A month later, my son was born! I managed to get a kindergarten spot in September and did the adjustment phase with my son. I started working in October again and my boyfriend took October for parental leave so that we have a smooth transition phase to our new everyday life. When that finishes, we will need to find a new routine with kindergarten, working and playing with our kid.
Laura: I've returned on a 30-hours per week contract. I work from 9:00am until 3:00pm, and everybody respects that! Of course, it's flexible if I need to speak to a candidate outside of those hours. To help me settle back into the role, I've had onboarding that's targeted to my role and a lot of meetings so that I can get to now the team- it's grown so much since I left!
I was always a fan of working from the office. I like the office environment and having a dedicated space to do my work. However, I'm actually enjoying working from home! I live near to the kindergarten, so it's easier to pick up my daughter. It also allows me more flexibility and I really look forward to the afternoons with my daughter. I feel like I've really learn to balance things now that I'm a parent.
Vera: I've also returned to work on a 30-hours per week contract! While I was on parental leave, the Head of People Development became pregnant. Paul called me in February to ask me if I could take over the lead of that team on my return, and now I'm working with the People Development team. The team managed the transition really well, and I didn't really need any onboarding because I've been with audibene for so long. The team has grown so I made sure I met with everyone. I also live close to the kindergarten, so it's much easier for me to pick up my son when I work from home. I've created a small office space, so that I can still have a bit of separation between home life and work life. In a way, it's a little bit like I'm working from the office but with the convenience of being close to the kindergarten!
Interested in joining our team? Here are our open positions.