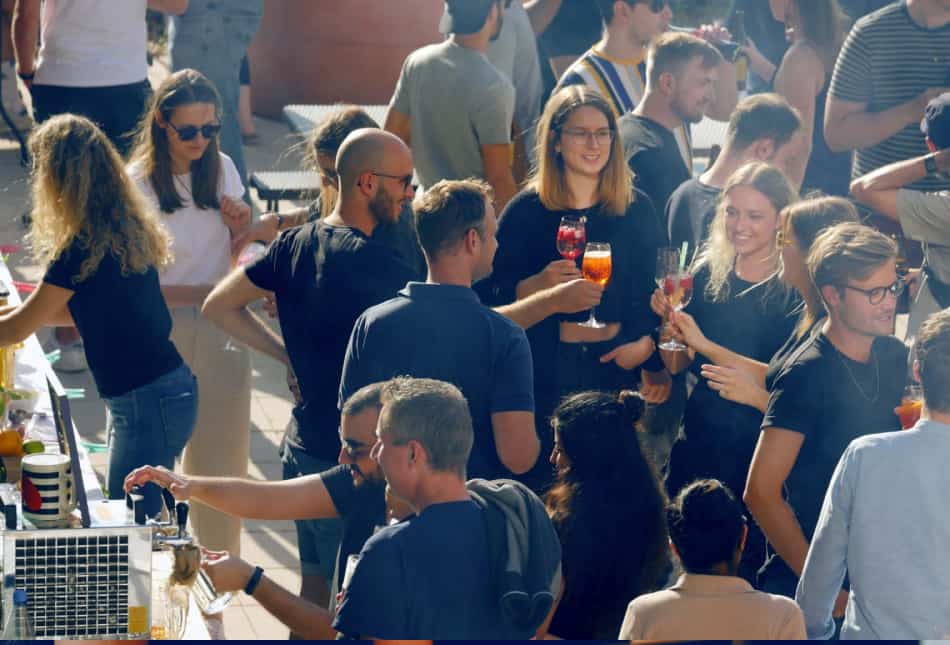 Rooftop Revival – We Finally Meet Again!
We truly enjoy working together. We have fun and love celebrating. This is one of our values and, during the pandemic, we've found ways to celebrate safely online via Zoom calls and a virtual island. However, nothing can compare to celebrating on our Berlin terrace.
At audibene, we are a team of teams and collaborate on projects together to change the lives of our customers with better hearing. Many of our project groups hadn't met face-to-face … and it was time to change that. After our most recent Townhall update, we invited everyone to the terrace for food, drinks and celebration, while ensuring that everyone was tested or fully vaccinated.
In this article, Alexis – our Employer Branding Manager and Diversity & Inclusion Specialist, will be taking you through experiencing their first audibene offline party.
As we battled the Berlin heat with our sunglasses and drinks, the conversation was flowing. I was fortunate enough to catch up with every teammate as I took their photo. With a variety of alcoholic and non-alcoholic drinks on offer, we were all in high spirits as we excitedly chatted about the Townhall meeting, our summer plans, and how tall we all are in real life, instead of that little Zoom screen!
What did we say 'Prost' (cheers) to?
• The pandemic may not be over, but we finally met in person again! If that's not worth celebrating, I don't know what is.
• We know we are the best place to work, but this year we had it confirmed by Glassdoor as we made the list of "Best Employers in Germany 2021".
• Our customers! We're constantly changing lives with better hearing. This is what drives us.
As the S-Bahn rumbled past along with our stomachs … it was time to visit the barbeque!
Have You Tried the Vegetable Skewers?
Our barbeque was sizzling, and so were (some of) our conversations! Worryingly, 'Have you tried the vegetable skewers?' became my conversation opener. Other tables were luckily filled with better conversationalists, and before long the air was filled with the sounds of laughter as people relaxed and mingled.
Next on the menu were Paletas – a Berlin staple, and a reflection on how international the city is! In fact, in a team of 45 nationalities, I rarely needed to utilize my German skills to connect with each team.
I've met colleagues from across audibene during my role in employer branding. Interviews, catch-ups and workshops are important for us to understand and authentically present our projects and culture, but these have always taken place over Zoom.
After a year and a half of working from home, meeting teammates (some for the first time) was unforgettable. Familiar faces from across our blog could be spotted, including Tobi Haude (Global Head of Product Management), Lara Schneidewind (Head of Tech CRM), and Manja Kaubisch (Head of Partner Development) whom I'd interviewed when we first launched, and more recent interviewees like Trang Nguyen.
After interviewing Trang for our article following her internship in Data Analytics, I was excited to find out how her new role as a Business Intelligence Manager was going!
She mentioned that she is currently working on implementing a data catalogue in our DOMO system, where anyone at audibene can search for any content/pages, even if those pages aren't shared with them. At the moment, many DOMO users can't easily find the content that they require, but by implementing this project, the team will increase data efficiency, transparency, access, and management.
Sounds like a project with a big impact!
Very often, in online meetings, Marco and Paul, the founders of audibene, talk about how much they miss meeting everyone on a social level. I saw this put into practice last summer when restrictions were temporarily relaxed. It was the first time I met Marco Vietor, who came out to the terrace and joined some teammates and I as we drank after-work beers, chatted about some of our current projects, and enjoyed a rare moment of normality during the isolation.
This time, with excitement buzzing in the air, I felt like I really understood what they meant. During the townhall meeting, they mentioned that if restrictions continue to be relaxed, then we can have team events more regularly. Already, an event has been organised to raise awareness for our sustainability initiatives, and for every person who joins the tournament, audibene will plant 10 trees!
Thanks so much to the organisation and cleaning teams, we all had a great evening! I'm sure I'm right in saying that we are all looking forward to the next one #weareaudibene ?