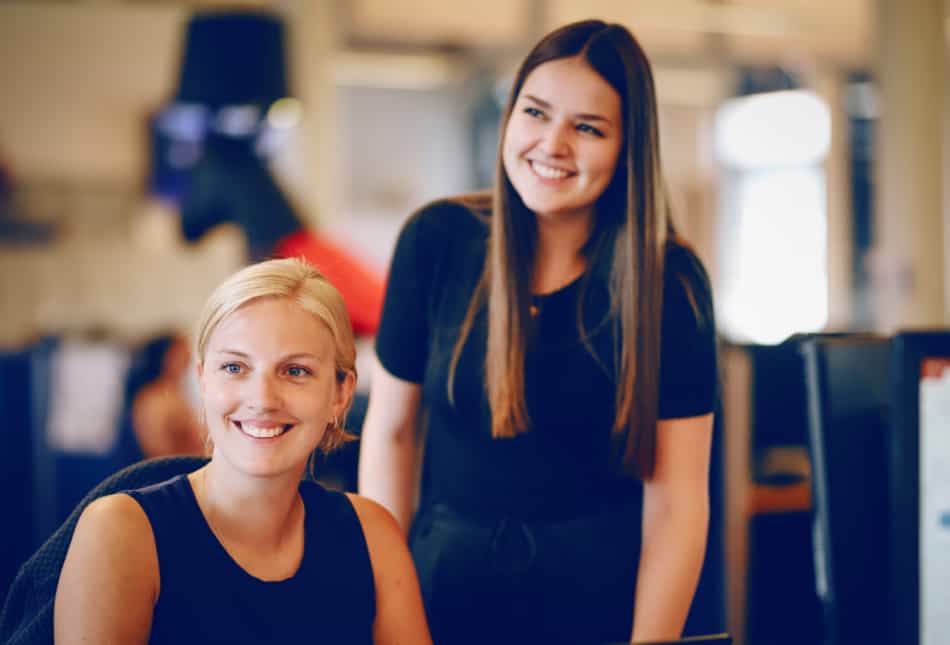 #Choosetochallenge: Empowering Women to Become Leaders
Women are continuously underrepresented in positions of power. Companies have a responsibility to challenge this. For every 100 men promoted to a managerial position, only 85 women make the cut. Consequently, the disparity in leadership remains. Women make up about 23% of executive managers and 29% of senior managers. That is why it is still as important today to empower women to become leaders. In this article, together with some of the women leaders at audibene, we will discuss their thoughts on the current struggle for gender equality and what advice they have for women in the workplace.
#Choosetochallenge – From Challenge Comes Change
"A challenged world is an alert world. Individually, we're all responsible for our own thoughts and actions – all day, every day. […] Collectively, we can all help to create an inclusive world." International Women's Day, 2021
Every year, International women's day features a theme. For the IWD 2021, we empower women and discuss gender equality using the hashtag #choosetochallenge. True to the motto "From challenge comes change", people worldwide use this theme to call out inequalities, show solidarity and start a discussion on how we can create an inclusive world.
Current and Future Challenges for Women
"Often neutrality is suggested by the majority. Yet, no one is truly neutral. We all have to rethink and redefine the systems we live in and the attitude we live with. Together, we have come a long way in gender equality, but we have to continue fighting." Erika, Head of Customer Loyalty
We sat down with some of the leaders at audibene to discuss challenges that women face in a business environment and how we can empower women to become leaders. For us, it's important to have these discussions to understand what we can work on as a company.
"We grow up to be different. Girls have to be nice, calm and careful. We learn that a doctor is a man and a nurse is a woman. Bosses are men and secretaries are women. It is crucial that there is a greater representation of women in male-dominated jobs and vice versa. As long as women think that they have to be a certain way, we have a challenge to tackle." Manja, Head of Partner Development
One of the biggest challenges that women of today are fighting and will most likely continue to fight in the future is the stigma of society. Existing prejudice is intensified by our upbringing, experience and language. Women are stereotyped as emotional and sensitive people who are told to hold back, in comparison to men, who are defined through their strength, strong opinion, self-confidence and more. As a consequence, the label "professionalism" many businesses use, refers to societally-accepted masculine characteristics. In comparison, women in leadership are seen as calm, emotional, sympathetic and more. Biases like these must be redefined, because they influence promotional opportunities and hiring practices.
"Gender privilege exists. We have to acknowledge that many men are in a leading position, because they are men. They sell themselves better, trust themselves more and take more risks. Those are amazing characteristics, yet they are not necessarily better for the position than those of women. Actually, it is quite the opposite." Katrin, Co-Country Head Switzerland & Head of Partner Development Switzerland
For many people, these biases often occur on an unconscious level. Without addressing these, nothing will change. Thus, it is our individual responsibility to challenge this unconscious bias and treat people with the neutrality they deserve. We can test our biases and address them using tools such as the Harvard Implicit Bias Test.
"One of the biggest factors that keep women out of leadership positions is the lack of representation. There are not enough female role models that encourage you to take the next step. As a consequence, you do not only feel much less secure, but also less confident in your abilities. In some cases, you even start questioning yourself. Do I deserve this position?" Isabelle, Head of Sales North Germany
Higher levels of management are generally male-dominated. This can deter women. People who do not fit into the white, male role model of a senior manager question whether they are worthy of taking such a place or even able to handle such responsibility. Thus, it is on us to assure that there are enough female role models that mentor and encourage future women in leadership and offer a more diverse representation.
How audibene Chooses to Challenge
At audibene, we believe in working together. Consequently, we work hard to maintain our open-minded environment. We provide everyone with equal opportunities and try to support this by consistently addressing our own biases and those of others. Acknowledging that no one can be completely free of bias the key to becoming more inclusive. This can even be achieved in minor steps, such as establishing gender-neutral communication, pronouns in signatures, and more.
Of course, it is still a long road for everyone around the world, even for us. However, by supporting each other as a team, being sympathetic and standing up for each other, we hope to take a shortcut to a more inclusive workspace and recruiting process.
Advice from our women in leadership
We need to #challengeourselves to rethink our systems of belief and work on a more appropriate representation of women in leadership in the hope of giving more guidance and encouragement to ambitious women around the world. For starters, we have collected some advice from our women in leadership that will help anyone to reach the next level in their career. How can we empower women to become leaders?
"Think less, do more. Just like Pippi Longstocking used to say, "I have never tried that, but I am pretty sure that I am gonna succeed!". Why should only men be allowed to take over the world? You can do it too, stop underselling yourself!" Manja, Head of Partner Development

"How do you define success? Stop thinking about how you can be successful. Rather, focus on your customers, your colleagues and do things your way. See other women on the journey as allies, not competition. In business, you need friends, not enemies." Erika, Head of Customer Loyalty

"Be brave and strive to be different. Our world is only revolving around numbers and so is the leadership style of many people. Become part of a new generation of leaders, who are not afraid to experiment, fail, listen and encourage. Be that role model for others and create your own leadership style." Isabelle, Head of Sales North Germany

"Challenge every day, fight only when it's worthwhile. Otherwise, focus your energy on things that matter like your customers and colleagues.Your success is in your own hands and you have to believe in yourself. If you can't, look for an environment and culture that matches your values and goals. Only then you will be able to flourish and use your strengths." Katrin, Co-Country Head (CH), Head of Partner Development (CH)

"Becoming a leader is like a journey. At first, it may seem far away. But step by step you grow and you overcome possible challenges along the way – everyone can learn everything. Don't think about whether you did something perfect. It's a process. Look back on your work with confidence and look with optimism towards the future and don't forget to enjoy the ride!" Lara, Head of CRM