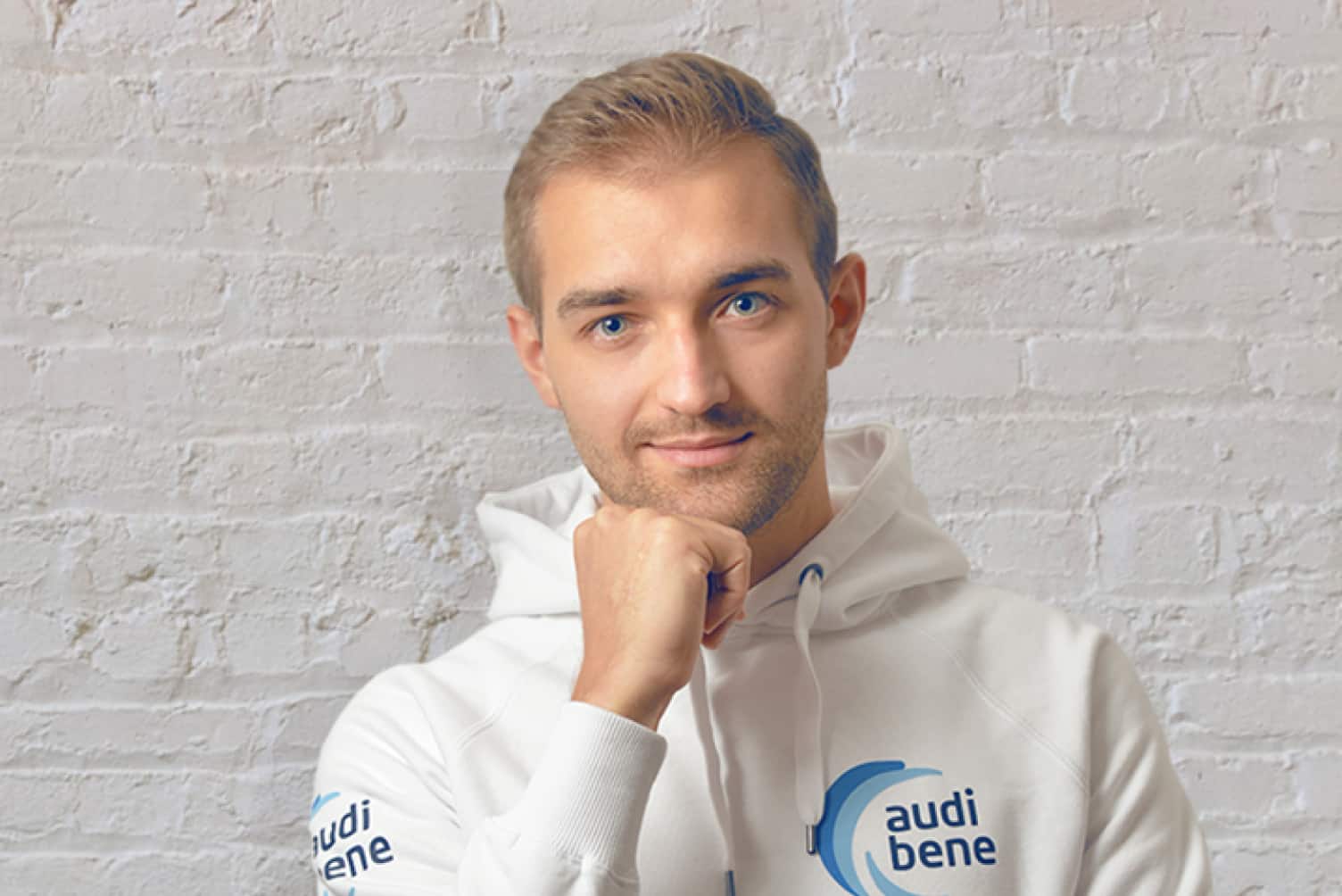 Getting started in customer consulting - Our Sales Academy
Before starting to work as a customer consultant at audibene, every beginner, regardless of whether they are an experienced salesperson or a master acoustician, must complete the Sales Academy. Here, many of our customer advisors learn early on how to become successful customer advisors.
There is a clearly structured process in which our Sales Academy coaches tackle various challenges together with our "rookies". This starts with the basics of customer consulting at audibene in phase 1 and runs in part simultaneously with phase 2, where the strengths of the consultants are strengthened in individual and joint coaching sessions. In phase 3, the learning material is further consolidated in everyday life. Shortly afterwards, you will complete the Sales Academy and be integrated into your new team as a fully-fledged member. This process is individually adapted to the respective beginner. With constant feedback and the appropriate support, everyone can gain their first experience of advising customers on hearing aids over the phone and is coached according to their own strengths.
Together with Markus, Johanna and Sophie, a few of the graduates of our Sales Academy, and Isabelle, the manager, we took a closer look at how to get started in customer consulting.
The journey to successful customer consulting
"We at the Sales Academy, accompany future customer consultants from day one at audibene with a structured onboarding. We strengthen strengths, provide support with intensive coaching to achieve the goals set and celebrate the first successes together. We accomplish all of this together, thanks in part to the integrated learning approach."  – Isabelle, Senior Manager Sales Academy
Phase 1 & 2: Develop fundamentals of client counseling & knowledge in individual and joint coaching sessions
At the beginning, all consultants learn the basics of customer consulting at audibene. Here, the focus is on understanding the customer, making the first customer contact and further developing enthusiasm for hearing aids. In addition, everyone is trained in our tools.
At the same time, it is about strengthening strengths and combining theory with practice. Knowledge is further consolidated in individual and joint coaching sessions. This applies not only to knowledge of audiology, but also to product- and customer-related as well as personal skills. In addition, all system-relevant processes are practiced.
Phase 3: Effectively organizing the daily work routine
Previous knowledge is further strengthened and practically integrated into everyday work. This means mastering time management, taking over tasks from colleagues and further developing communication skills. The most important point here is that everyone, in their own way, can successfully apply and accommodate what they have learned in their everyday work.
Before joining the team, there is another detailed look at our process. On their way to successful customer service, our "rookies" have already mastered many firsts, including: Customer meetings, care calls and closings. Graduates are now integrated into their teams as full-fledged members.
What does a successful customer service representative bring to the table?
"For customer service, you should have a positive attitude and be very empathetic. We learned early on that our customers couldn't be more different. You have to adapt to each person individually. This requires a high degree of empathy and and flexibility. In addition, of course, you should also have a certain ambition." – Markus, Sales Consultant
How have you developed thanks to the Sales Academy?
"During my time at the Sales Academy, I learned to accept when things don't go well, but to motivate myself again and be happy when you reach your goals. In the beginning, it's like an uphill and downhill ride. Even after the Sales Academy, the development doesn't stop for a long time. New challenges add new experiences every day."  – Johanna, Sales Consultant 
How does it feel to successfully complete the Sales Academy?
"It's a mixture of anticipation and nervousness – like going from kindergarten to elementary school. After all, the "rookie period" is just the beginning. Nevertheless, I was able to easily get involved in this new experience. Since you're taken by the hand from day one, I knew that I could always count on the support of my colleagues in the face of any challenges. You have a super team behind you." – Sophie, Sales Consultant
What tips do you have for applicants interested in customer service at audibene?
Johanna: Everything comes step by step. Just get into the experience, even though you may not know anything about hearing aids at first. Everything is given to you to become successful. You just have to accept it and put it into practice.
Markus: You should let the Sales Academy come to you in a relaxed manner. You have a great team with you that supports you every step of the way to becoming a successful customer advisor.
Sophie: Don't stress yourself out too much. You don't have to know everything on day one. You're not doing yourself any favors by doing so. Rookie time is organized and structured, which is why it's easy to get involved. On top of that, you should always communicate questions and comments openly.