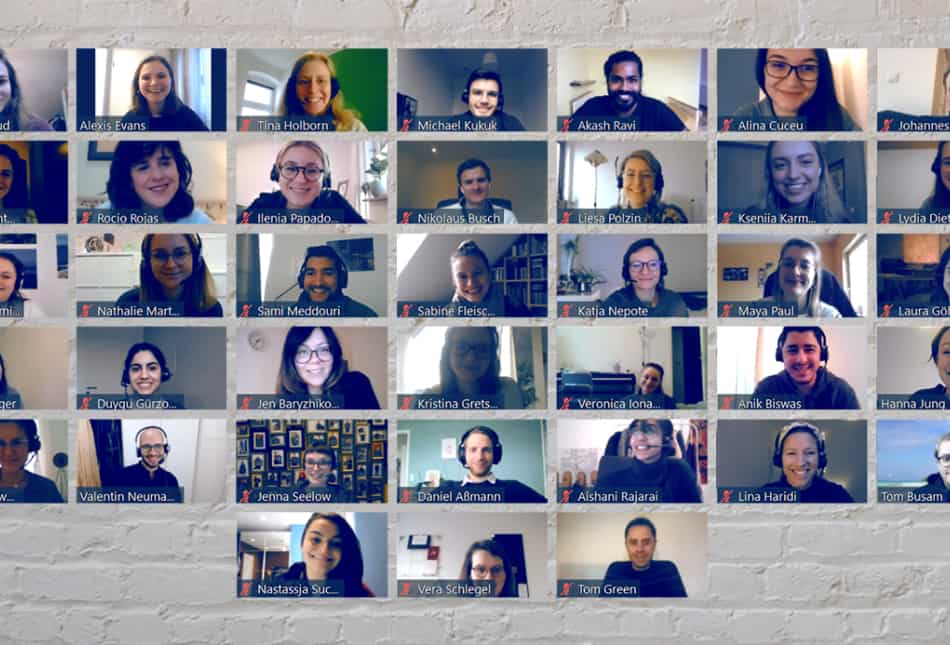 Remote Onboarding During a Global Pandemic
In June, Alexis started a new role as a Talent Acquisition Intern. The onboarding was completed remotely from the UK during COVID-19 In this blog article, Alexis describes the experience of the first week.
Day 1: Meet the people team and other newcomers
Waking up at 7am to accommodate for the time difference, I'm enthusiastic and ready for the week ahead. I've already been sent my schedule for the first week, and I can't wait to meet my buddy face-to-face (well.. zoom-to-zoom). Barbara Bogusz has already reached out with a friendly message and I'm really intrigued by her role as a Scaling Manager, so I have a lot of questions! I turn on the laptop that audibene sent to me last week and get ready for the first onboarding session led by Valentin Neumann (Head of People). I'd been interviewed by Valentin, so I knew that the session was going to be engaging and interactive.
I'm shocked, as 10 other people join the onboarding session- I can't believe so many people have been hired during the crisis! I spend the rest of the day meeting other members of the People team and discussing my role with Jen Baryzhikova (Senior Talent Acquisition Manager). I'm also introduced to the Digital Academy, which means that I can access extra onboarding training whenever I need it!
Day 2: Getting to know the marketing team
My first session today is about the customer journey and online marketing. It's the session that I've been looking forward to the most because I haven't previously recruited for marketing roles and I feel ready to learn as much as possible to help me in my new role. After the session, a Zoom coffee break has been organised with the Online Marketing team and they're all very welcoming- I feel very happy to be recruiting for them.
After working in a tech startup with around 35 employees, I assumed that a company as large as audibene would be a little less responsive to change and innovation… I was very happy to be proved wrong! Innovation runs right through the company, from the hearing aids to the COVID-19 response. I have some more 1:1 time with employees from the People team and explore the software- I've heard a lot about Greenhouse Software and I'm thrilled to delve into the features! At 5pm, Kseniia Karmanova (Tech Talent Acquisition Intern) invites me to the German class. The teacher is hilarious and immediately puts me at ease. I already can't wait for next week!
Day 3: LinkedIn Recruiting and Virtual Dinner with my audibene Buddy
The Sales team are leading today's onboarding, which proves to be just as interesting as day one and two. I have more 1:1s with the People team and I'm getting used to seeing familiar faces… I feel like I'm making friends! I have a chat with Jen, who introduces me to LinkedIn Recruiter, another example of audibene investing in the tools that we need to be as effective as we can. I get started on active search, splitting my time between the Head of Marketing and CRM roles. The doorbell rings, and my takeaway has arrived! audibene have paid for the new employees and their buddies to have a Zoom dinner together, and Kseniia starts the call with a game of 2 Truths 1 Lie. The dinner is lively and entertaining as we relax and talk about music, dancing and food, with the buddies sharing stories of their favourite memories in the office. Two hours later, tired and with a face hurting from the laughter, it's time for bed!
Day 3: Posting my first role
I've run out of notepaper that was sent to me in my welcome pack! I've learnt so much in just a few days, that I'm excited for the Partner Management onboarding session and confident that the team will be just as cheerful and welcoming as the others. One of the session leaders is Roberto Jara (Junior B2B Operations Manager), who is as generous with his knowledge today as he was with his energy at yesterday's dinner! He and his colleague are accommodating and answer all of our questions. Afterwards, I grab a coffee ready for my chats with more of the People team. I'm appreciative of the advice that they give me, it's clear that they want to support me to be the best recruiter that I can be. Jen and I have our daily call, where she gives me feedback on my progress with active searching and explains the strengths and weaknesses of each profile. I leave the call feeling elated and supported, and I can't help but immediately message Kseniia to tell her the good news: I can post a role! Already! I'm smiling ear-to-ear as Jen checks through the job description to make sure that it's inclusive and reminds me to add (f/m/x) to the job title. I post the role of Motion Designer and continue my active search, galvanised by the trust of my manager and the onboarding as a whole. As the day draws to a close, I realise that I'll be impatiently waiting for Monday to arrive… I guess this post is a consequence and a testament to the success of Kseniia's work in the development of the onboarding process!
Want to experience this onboarding process for yourself? Have a look at our open positions and join us at audibene.