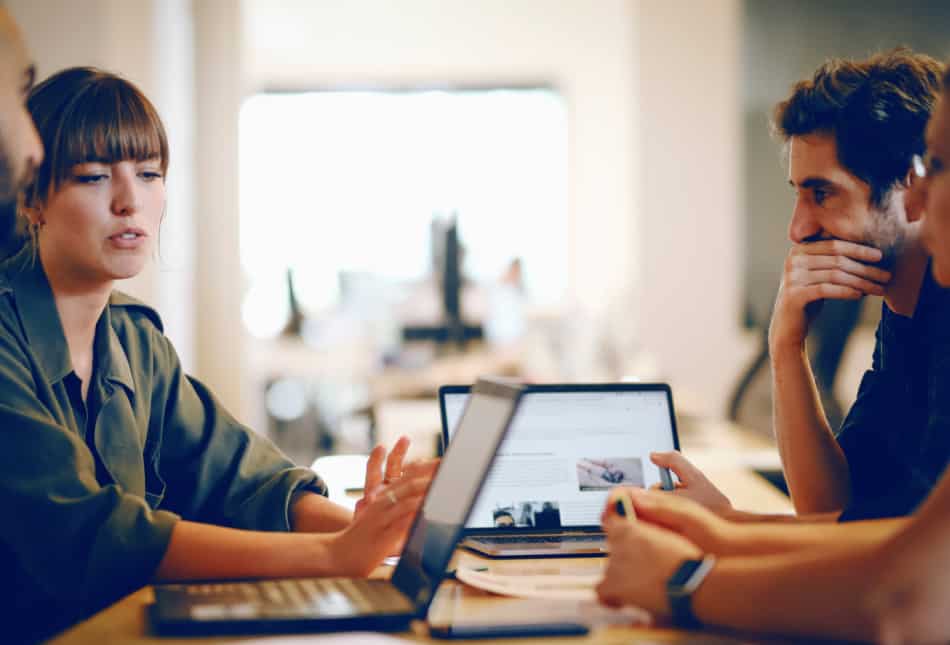 Overcoming Challenges Through Learning in the Marketing Team
Here at audibene, we are motivated by challenges. We welcome individuals who are keen on learning and elevating their skills to the next level, even to the extent of regularly re-assessing their strengths. At audibene, we live by the following mantra: Try again, fail again, fail better. This holds true, especially in the marketing team—whether you work in SEA, CRO or CRM. It's all about finding greater solutions by questioning the status quo. In this article, we have a chat with Defne Sunay (SEA Manager), Matthias Egbers (CRO Manager) and Melina Faß (Junior CRM Manager) from the marketing team, who each share their challenges and discoveries while working at audibene.
What is the greatest challenge you experienced while working at audibene, and how did you tackle it?
Melina: Melina: What's challenging is that you get many responsibilities right from the beginning. In response, try to think proactively and work autonomously. While these concepts are hard to master, they'll help you balance your tasks and develop your skills. For example, I started out doing different types of online and offline campaigns. Sometimes, I was responsible for tasks without having a lot of experience in that specific area. It is always a learning process. There's a lot of rethinking involved that evolves throughout the process, and that's how you grow your knowledge.
There can be a tonne of different challenges that colleagues can face, especially while working remotely. For most of us, communication is definitely in the top three.
In light of these new circumstances, Defne and Matthias have faced home-office difficulties; as a result, they've started to embrace a new way of working.
Defne: The home-office situation can be particularly hard, especially when you've just started at the company. It's harder to get to know everyone and to be able to share your ideas, especially if it's a big team. At audibene, you don't need to be afraid to ask questions or contact a colleague if you feel insecure about something. Everyone is happy to help. There are many chances to speak your mind, especially during the global marketing calls. Everyone is equally involved in the brainstorming process—there are no hierarchical structures at our company, and every opinion is valued the same way.
Matthias: I had only been working at the office for two weeks before thelockdown and home-office situation became the "new normal". Surprisingly, this could not have gone better, because audibene really made it easy for everyone to adjust. What helped me the most was asking the right questions when needed—it's always better to have a quick Zoom call than to communicate back and forth through email. Also, attending meetings and actively contributing helped a lot, not just with becoming part of the team, but also understanding much faster how audibene works.
We use Slack every day to share information, collaborate on different tasks, bond together, and celebrate success. Moreover, Slack helps us to avoid feelings of isolation and disconnection while working from home.
What is the most important thing you've learned here?
Matthias: Learning how to be confident in sharing results. When I started at audibene, I was more hesitant to share my testing results. Thankfully, the team's incredible feedback, professional working environment and steep learning curve made me much more confident in sharing my findings.
On the other hand, Melina has been learning the importance of project management skills, and has been working independently on tasks as if she were running her own company.
Melina: My way of work has changed in the past years. At the beginning, you are always afraid to make mistakes. But then, after a while, you gain more confidence and don't take mistakes too seriously, because it's just a way to learn and grow.
The marketing team is constantly growing, and currently consists of around 50 entrepreneurs. We continuously search for new, passionate team members to join audibene—people who can help us enrich and leverage our internal skills.
Give the best piece of advice to a new colleague joining the marketing team
Melina: When you start working in the marketing team, try handling projects independently. After all, the best way to learn is to try it yourself first; but if you feel insecure, ask around. There are so many experts at audibene that are open to sharing their knowledge with you!
Defne: Everyone is open to new ideas, so feel free to bring your own suggestions. There is no stupid question or idea. Just share it on Slack or during the Monday meeting—that is the best way to contribute to the team's work and grow together.
Matthias: But most importantly: Just be you. Communicate openly, share your results and work as a team. If you do that, everything else will happen automatically. The whole team is welcoming and open to discussions, so there is no need to be shy!
Now that you have gained a few more insights about some of the challenges and learnings at audibene – are you ready to join a Glassdoor Best Place to Work in Germany 2021?
Check out our open roles!