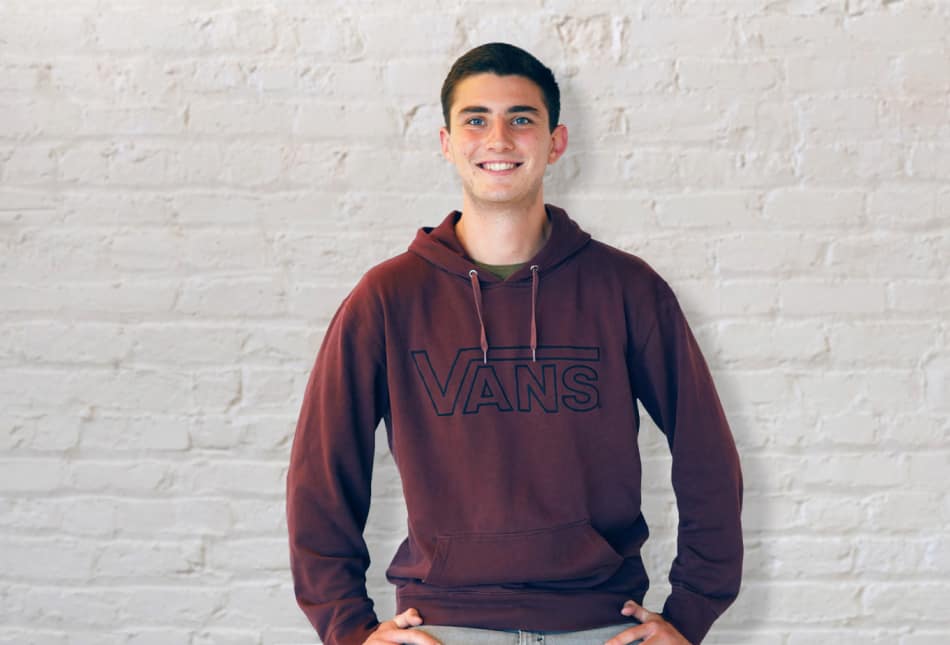 The Journey of Bene – From his Internship to a New Role
Bene's audibene journey began when he joined us for an internship in Online Marketing. He was ready for practical experience and a steep learning curve… and that's what he got! Taking ownership of his own email campaigns turned into being responsible for multiple markets in his new role as a Junior Paid Social Manager. We caught up with Bene to find out more about his internship, his new role and what he loves about working at audibene.
Why did you join audibene?
Bene: I was referred by a friend in the teleaudiology team based in the US. Colin was so excited about audibene (and still is), that I knew it would be the right company for me. I asked him if there were any open internship positions, and the role of Online Marketing Analyst fit me perfectly. I wanted to get some practical experience after my Bachelor degree. I prefer hands-on work to studying, and I feel like it provides me with more useful knowledge.
I'm glad I joined audibene because the internship provided me with a lot of opportunities to learn from my colleagues. Also, since I shorten my name from Benedikt to Bene, it was obvious that I had to join!
How was the learning curve?
Bene: Before audibene, I'd never done performance marketing. I didn't have experience in email or social, so I had a lot to learn! Karo, my team lead, was very patient with me and took the time, in the beginning, to explain everything fully and in detail. She showed me our processes, software, and our different communication pathways. Then, she gave me the space to take ownership and test things out. I wasn't expecting to have that much responsibility, but I was really happy to be able to make an impact!
In email marketing, I learnt how to set up campaigns and how to generate leads while working together with different marketing partners. This meant that I needed to learn some HTML since we send our partners coded templates. It was interesting to find out how all of the different steps work together and how to track the success of our email campaigns.
Bene: After getting some great tips from Karo, it was time to start taking ownership of email campaigns! I worked with people across the customer acquisition team to get their insights, and transferred them into email templates. I did copy tests, campaign creation, and monitoring the tracking. There's a great culture of exchanging knowledge at audibene, and I've personally experienced it in the customer acquisition team. We regularly exchange ideas to support each other's work.
How was your experience with our office events?
Bene: The office events are so much fun. Originally, I didn't plan to move to Berlin. I was going to work from home during my internship because of the pandemic and coronavirus restrictions. However, I quickly changed my mind even though we couldn't go to the office because I wanted to be closer to my colleagues and interact with the team more.
Now that the office has reopened, I always look forward to the events like 'Poker, Drinks & Trees', 'Quiz Night', and just sitting with my team after work. Having a beer together and meeting each other on the terrace is what makes audibene special for me.
The most recent event, the audibene Oktoberfest, was my favourite so far. I really appreciated the opportunity to meet my colleagues from across Europe and get to know everyone better. We had Bavarian food, enjoyed drinks together, and the dancefloor was wild!
What was your most memorable experience at audibene so far?
Bene: I really think it's my growth in general- it's making an impact and seeing how we change lives with better hearing. As an intern, I slowly got more and more responsibility and now that I'm working full-time in the social team (spoiler alert!), I'll have the chance to get hands-on on completely new challenges and get even more into performance Marketing. For example, since last week I have had ownership of the South African market's paid social!
That's such great news that you're staying with us after your internship! What will you be doing and why did you decide to stay?
Bene: My team and I are responsible for paid social marketing. The team are split into different markets, like Germany, Switzerland, France… I'll be responsible for all of the smaller markets. Right now, I'm handling the South African market and shortly I'll take ownership of the Dutch and Swiss markets as well! I'm tracking the accounts, learning how to use Facebook Manager, collecting insights, and I'm responsible for creative production. I'll be closely working together with our design team to make sure that we develop attractive concepts and creative videos that we can use on social media.
Sometimes you have to trust your gut feeling. I knew that staying at audibene was the right path for me because I've learnt so much here, and I'm pretty sure I will learn even more in the upcoming months, which I'm really looking forward to!
Our working students and interns can create their own future. Check out our podcast episode with Tonio, who started as a working student and went on to become our Head of Tech Innovation here.