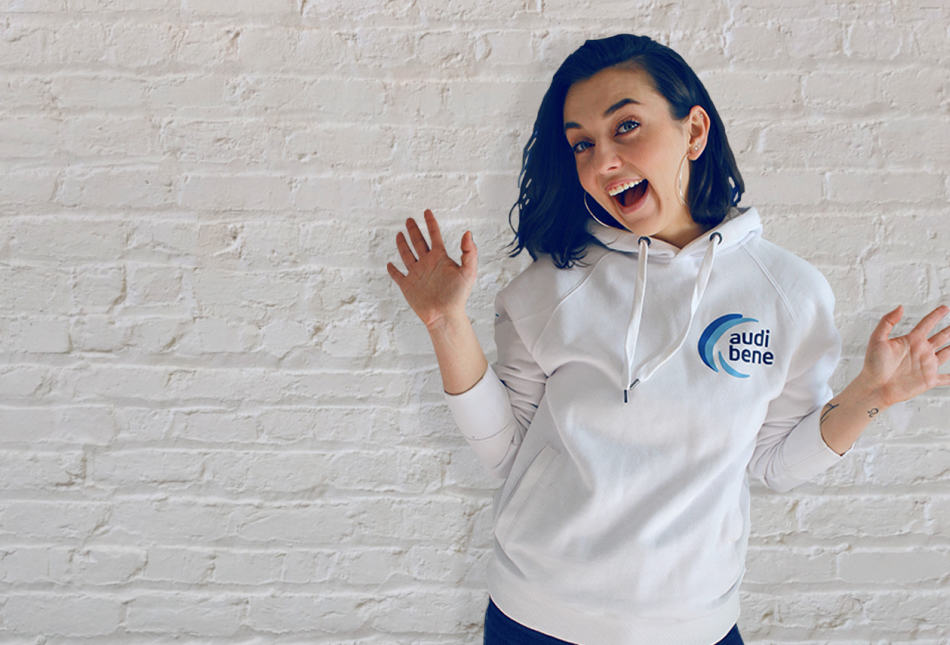 Career in customer consulting
Training is not always the only decisive factor for a career in customer service. Rather, it's about enjoying working with customers and selling. A perfect example of this is Bianca Suciu. You can read in the interview how she went from her former dream job as a make-up artist, her communications studies and her emigration to Germany to finally landing in the audibene office in Mainz.
Did you have a dream job when you were a child?
I don't really remember that at all. I think my first idea of a dream job was as a teenager. I really wanted to become a make-up artist or work in the cosmetics industry. Partly I already worked there in sales and for a short time I was also supposed to become a retail artist in a make-up store. But you know how it is, somehow everything turns out differently. Currently it is so that I continue to try out looks on myself and do not exclude for the future to become more active here.
What was your time at school like?
I grew up and went to school in Romania. Since I was seven, however, I spoke German at home with my mother and her partner. In addition, we always had German television on. So I grew up bilingual, which also helped me a lot later on. I later completed my studies in communications and marketing in Romania. Despite my studies, however, I always remained active in sales. A few months after graduation, I moved to Germany. That was about two years ago.
What were the most important in your career?
During my studies, I always worked part-time in sales. First in the cosmetics industry and later in the industry. Here I had a job where I was mainly responsible for German customers because of my language skills. After some time I thought that I could do the same job in Germany, but with a better salary. So I first went to the beautiful Düsseldorf. After a few detours and a couple of stops in between, I ended up in Mainz and moved in with my boyfriend. That's how I came across audibene more than a year ago, applied straight away and was accepted the day after my birthday – a perfect birthday present.
Why did you choose a career in customer constulting?
I just love the constant contact with people and the versatility that this job gives me! Every conversation is different and you always have to adapt and reinvent yourself. At the beginning of every phone call, I always have to quickly assess the customer and then adjust accordingly. On top of that, I'm extremely happy when a customer ends up satisfied with the product they came across through my individual recommendation.
How do you envision your future career?
For the near future, my focus is on my professional development. That's why the next step for me is to become a senior customer advisor in January. In the future, I could imagine gradually taking on more responsibility here and growing within the company, for example as a Team Lead. But I don't know exactly yet. In general, I'm excited about what's in store for me and who knows – maybe I'll end up becoming a make-up artist after all!