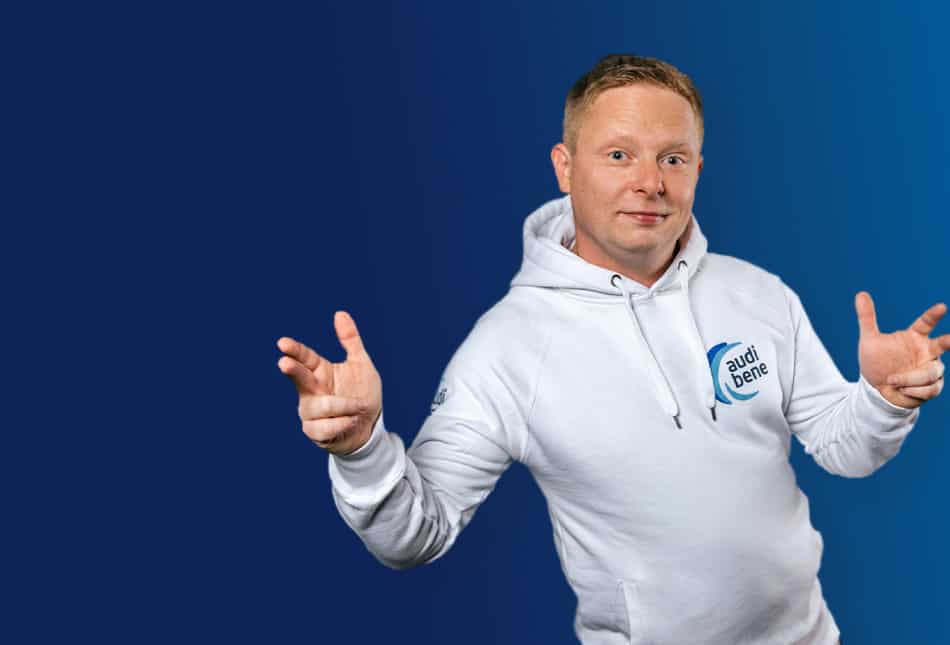 My work life as a customer consultant in the home office
I've been with audibene for about a year now and am part of the customer service team for Germany. I work completely from my home office. This is nothing new for me, though, as I don't live in Berlin or Mainz, so I've been working from home since I started. But what does my day-to-day work as a customer consultant look like and what keeps my telephone voice always fit?
After my alarm clock wakes me up at around 7 a.m., I don't get myself ready for the day, but my little daughter. That means getting dressed, making breakfast and off to daycare. After that I always go for a little walk with our two dogs, who of course don't want to miss their morning walk. After getting some fresh air, I also get ready for the start of the workday. So it's shower and breakfast for me, too. Here, typically German, I usually reach for the good old buttered bread. Around 9 a.m., I start my laptop and thus my workday. A large pot of tea, usually peppermint, must not be missing. It keeps my voice supple, even if I talk a lot throughout the day.
A typical day at work as a customer consultant? It's always different!
I start my day by looking at my calendar and my dashboard. What's on the agenda for that day? Then I usually start by contacting new customers and later move on to phone calls with existing customers, where I ask them again how they are doing. Phone calls with customers are always different, which is why I'm always faced with new, individual challenges. I also take care of administrative tasks. In addition, there are always short meetings about new or existing projects, which I also accompany and help to set up. Of course, I also have the occasional short zoom call with my colleagues to exchange ideas and keep up to date. Basically, I never have a fixed schedule, but I need the variety in my everyday life.
Get away from the screen and into the fresh air during lunch break
I always use the break to go out with my dogs again a big round. Especially in winter, you often do not get out the door so often, but through my dogs I am additionally motivated to grab the leash and go an extensive round with them. But also the physical well-being may not come too briefly here of course. When cooking lunch, it usually has to go fast for me. With a little luck there is still something left over from the evening before. If not, I am so far with my cooking skills that I also like to cook myself something quick. Of course, noodles always go here.
An afternoon slump? That can actually always happen
Of course, no one is safe from the well-known and dreaded afternoon slump. In general, however, such a low can occur at any time of the day. Sometimes customers are not so easy to reach, sometimes you just can't get into the workflow. For me personally, an everyday motivation is always positive customer comments or feedback. You should always celebrate them and not just take them for granted. Even a short coffee break with a colleague via Zoom usually works wonders. The most important thing for me to stay motivated is the constant exchange with my colleagues and my team. Whether in one of these short Zoom calls, in the group chat or in evening team events. My personal highlight is our after-work beer via Zoom once or twice a month.
Time to say goodbye - My end of the day
Towards the end of my working day, I naturally make sure that I have completed my tasks for the day. I also usually take a rough look at what's coming up the next day. This helps me to organize myself better and get a good start to the day the next morning. After the laptop is shut down, it's family time. That means dinner with my girlfriend and child, followed by bedtime for my daughter. Even though I sometimes nod off myself, I always try to enjoy the evening hours with my family and let the day end in a relaxed way.
I've been with audibene for a year now and still look forward to the next day when I fall asleep. I look forward to my colleagues and the contact with the customers and I think that shows that I have the right job.
That's it for now about my day-to-day work as a customer service representative. Have a great day at the home office.
Best regards, Michael Meene ?