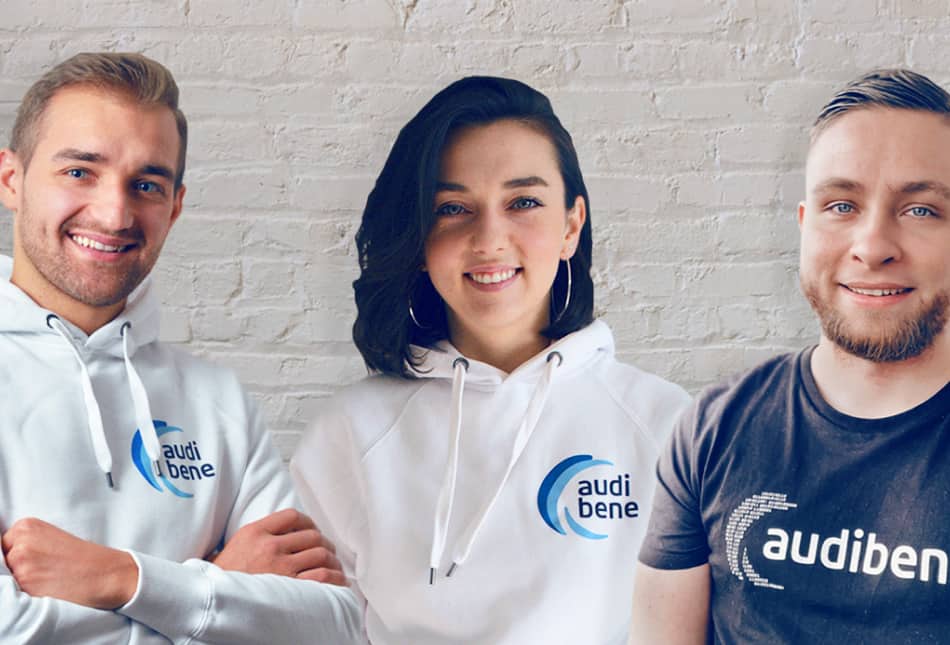 Our key to outstanding customer satisfaction
Every day Mila comes home exhausted. As a teacher, conversations are an everyday occurrence for her, but unfortunately they become more and more draining. But no matter, now she finally has time for her family! And time to watch the movie she's been looking forward to all week. But she quickly realizes that she can't really understand anything. She has to turn the TV up so loud that it makes everyone uncomfortable. Mila suffers from a hearing problem. But she is not alone in this! Over 11 million people live with similar problems across Germany. At audibene, our mission is to help these people live well through better hearing. Giving back that quality of life makes all the difference for many people. They often let us know that, too. Their positive experiences drive us to do our best every day. Find out how our excellent customer service has become our key to superior customer satisfaction and the unique ways customers have already thanked us in the following blog post.
Customer service at audibene - on the front line of our excellent service
Our excellent service is our key to outstanding customer satisfaction. Right at the forefront: our customer advisors. Through their direct contact with customers, they are the main influence on our customer satisfaction. One of the most important factors in this is the way we interact with our customers. At our company, our customer advisors build a personal relationship with the customer by accompanying them through the entire fitting process. Mutual trust is the key to success. That's why our consultants are always responsive to each customer and strive to be helpful at all times.
From day 1, we focus on the customer. Even before the first meeting, we try to understand the customer and his problems in all facets of his life by means of our application form. This allows us to get to know the customer efficiently on a personal level during the first contact and to identify their wishes at an early stage. This forms the cornerstone of our individual service.
In contrast to other customer service centers, where the customer switches between ten advisors and gets lost in customer, contract numbers and the like, at audibene you are always accompanied by the same customer advisor. You have the first consultation together, discuss the first appointment together and go through the individual steps to the new hearing aid together.
Finally, our ability to solve problems also contributes significantly to our high level of customer satisfaction. Through our regular contact, we can quickly identify problems and offer individual solutions. In other words, we approach the customer directly instead of going around him or her. The customer is never "in the way." This also applies after the process. Finally, of course, it is also crucial that everything is actually in order after the sale.
Customer consulting at audibene - more than just a "salesperson
Our customer service representatives are more than just salespeople: they are people-understanders, problem-solvers, listeners and more. They understand customers intimately and engage completely with the person on the other side of the receiver. But the job also includes patiently dispelling preconceptions about hearing aids, since a large percentage of customers have never had contact with them before. In addition to the process with the customer, there is of course also the contact with our partner acousticians. Meanwhile, our customer advisors still have to ensure that the customer always remains priority number 1. Because with us, there is not only commission for the deals, but also time on the phone and evaluation from the customer.
Our customer service representatives are not only at the front of our service, but also at the center of our feedback. Whether bad or good, reviews (e.g. on Trustpilot) often affect our customer advisors directly. Therefore, dealing with criticism is also part of everyday life. Fortunately, this rarely happens. Instead, our customers like to let us know, and often do, how much they helped and liked our service – sometimes in truly unique ways.