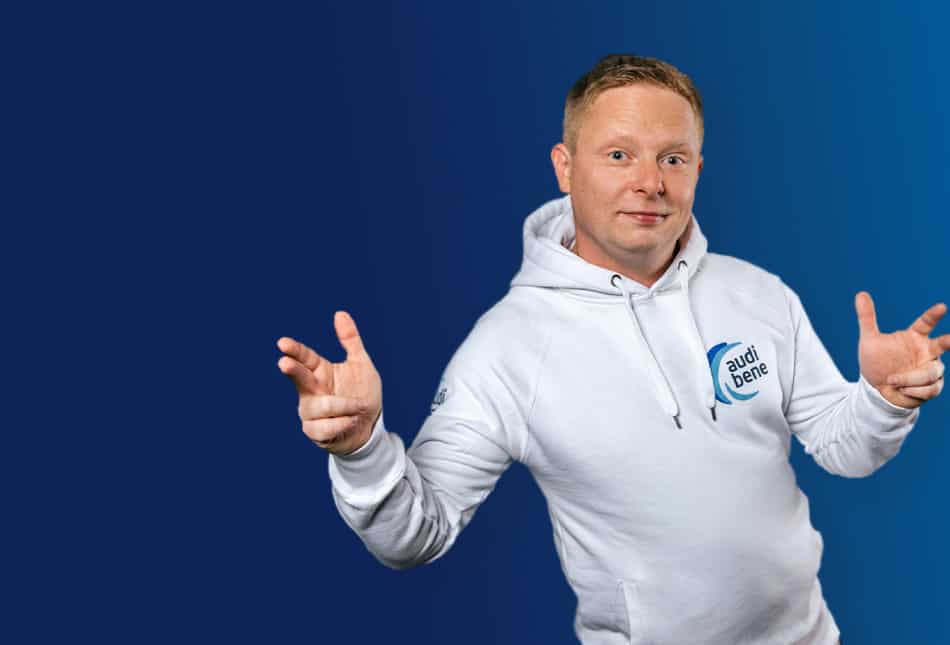 The everyday life of a Sales Team Lead at audibene
Michael started his career at audibene as a Customer Consultant and has been the Sales Team Lead since April. Elena talked to him about his motivation and his new challenges. Why he compares audibene to "Star Trek" and how he prefers to start the day together with his team – read all about it in this interview!
Until recently, you were a Customer Consultant and have now been a Team Lead since April. What has changed for you in your daily work since then?
Michael: That's right, and I'm very happy about this opportunity!
Before, my focus was clearly on the customer. Now my focus is on my team and the different characters; in other words, motivating and helping the individuals in my team to develop. That's the main task of a team lead, and it's also the most exciting task for me.
How do you feel about the opportunity to develop within a company? Is this something that is important to you personally?
Michael: Yes, it was and is very important to me, because I took the step to audibene knowing that I would have the opportunity to grow with my tasks and develop further. Of course, this also means first getting to know the basics and doing the job as a customer consultant not just well, but very well, in order to then get the chance – as in my case, for example – to become a team lead.
From the very beginning, the expectations were clear and it was always communicated to me openly in which direction it could go. I really appreciate that about audibene as an employer. Just like the regular feedback rounds, which create transparency and provide space to share expectations, etc.
I think it's super important to have a perspective and to be able to help shape it. The same goes for the trust placed in me – I've always been supported on my path at audibene so far.
In addition to the opportunities for further development - Why is audibene the right employer for you?
Michael: The mentality alone … In theory, I can simply write the founders Marco and Paul an email or via Zoom at any time and don't have to go through any detours first. I think that's super cool!
I've been to one audibene party so far (that was just before the pandemic started) that actually stuck in my mind for the whole year. I was with them in the Czech Republic and I have to say that I've never experienced as much as I did during those 4-5 days – let alone as part of a company event, i.e. organized by the company itself. That was super good! Means, this whole togetherness I just like. I am supported and we have a lot of fun together! What more could you want?
I also get such benefits and added value from working from home. That's a big positive factor for me today, and it was back then, too.
You always have to remember that home office at audibene didn't just exist in the days of Corona, but much earlier. And audibene is a pioneer in this respect. I had three meaningful introductory days in Berlin and then – bang – home office! Also from the technical side, how it all works so smoothly is just great in my opinion!
Compared to the previous companies I worked for, audibene honestly seems almost like Star Trek!
What do you think makes a good sales team lead?
Michael: Spreading motivation, being able to respond to individuals, always being a contact person and having an open ear … just as much as developing a team feeling.
Even though I haven't known my team that long now – we have already become so well integrated in these two months. Everyone works very focused and together we achieve great results, but at the same time we also have an incredible amount of fun alongside in the team chat and can laugh together. That is totally important!
Yesterday, for example, we started the day together with our Wake Up Song. We all have a tablet at our disposal, which you can of course use absolutely voluntarily if you want to have the feeling of sitting in a room with your team and being able to see each other (digitally) every day, despite having a home office. I personally like it a lot. In any case, it was nice to see the happy faces when we listened to the song together. That just creates team spirit!
Dear Michael, thank you very much for the interview and all the best for the future!