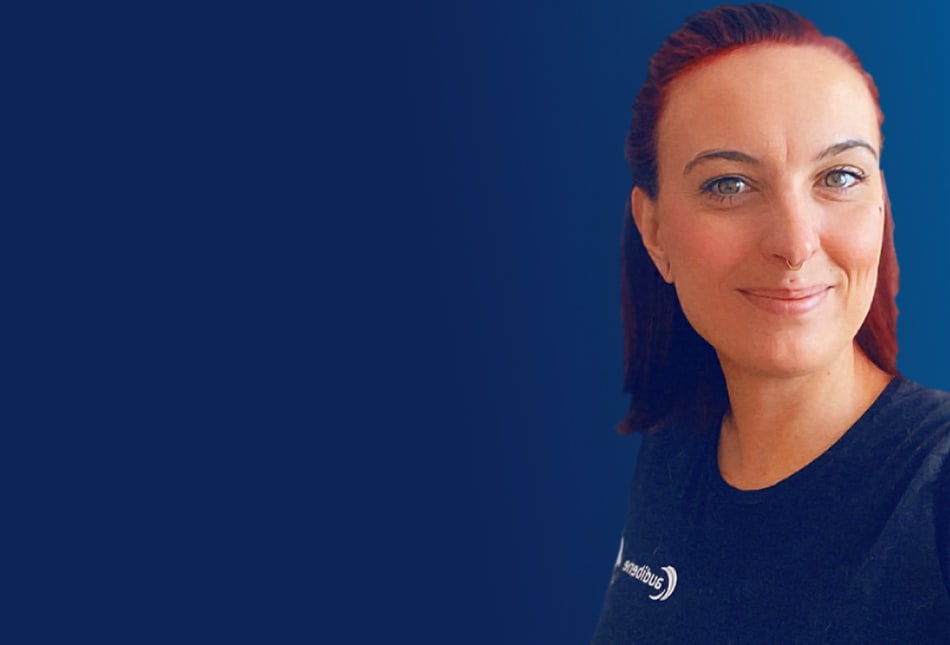 Team Lead Academy: Your next step to team leadership
In May 2016, Katharina started as a part-time Customer Consultant at audibene. She quickly gained a foothold in customer consulting and took over her first team less than two years later. In 2019, she successfully built up a lower-performing team as Senior Team Lead. She then moved to the Team Lead Academy and has been training our Team Leads in Sales ever since. In our interview, she tells us more about the career step to team leadership, our development process and how she passes on the audibene DNA to our team leads.
How do you actually become a Team Lead at audibene?
At audibene, everyone has the chance to take the career step to team leadership. The only prerequisites are good performance and the right attitude. For example, you should have ambition, but also a knack for getting along with other people. If you stand out positively, you get the chance to take part in our Team Lead Academy. Here, everyone learns the basics of team leadership through a coordinated training program. If you can convince them of your abilities, you will be promoted to Team Lead. However, this is not the end of the development opportunities. As a Team Lead, you can continue your training at audibene to become a Senior or Regional Manager.
What do you mean by Team Lead Academy?
The Team Lead Academy is a 12-week program with different modules. Each week there is one module on a specific topic. For example, we start with our Team Lead Principles, which explain the role as and expectations from team leadership. Then we move on to understanding KPIs. Here we explain, among other things, the meaning and application of KPIs.
Thematically, we go across the board. Among other things, we talk about development stages, communication with team members or how to conduct a GROWTH or feedback session. In doing so, I also like to bring in my personal best practices, which I have gathered through my experiences as a team leader in various teams.
From week 4 on, it's all about coaching. Here, our future team leaders are trained in two large modules from Customer Consultant to Team Lead and Coach. Using various methods, they learn the basics of coaching at audibene. You then conduct your own coaching sessions, which I either witness in person or watch on a recording.
If you then achieve the appropriate score in our Academy Skill Matrix and convince audibene with your audibene DNA, you can take the career step to team leadership. Of course, you are not thrown in at the deep end. During the first four weeks, I continue to accompany new team leaders and help them with additional modules. For example, this involves understanding personalities or how to organize team events and motivate your team even during Corona and home office.
What role does the Team Lead Academy play at audibene?
We trust in people rather than structures. This means that our culture is extremely important for our company. We have the freedom to simply address things, communicate openly, start projects ourselves or propose completely new ideas. In order for us to give every team this opportunity and consistently treat everyone fairly, it's important that our Team Leaders have the same mindset. They are the levers for our culture and pass it on to the next generation. So through the Team Lead Academy, we can not only provide the same opportunities to everyone, but also continue to keep our audibene DNA.
"Our entrepreneurial mindset is characterized by our freedom. Everyone has the opportunity to start their own projects and propose new ideas. Through our Team Lead Academy, we can pass on values like these to the next generation of leaders and keep our entrepreneurial mindset. Katharina, Sales & Sales Team Lead Trainer."
What is audibene DNA and how do we pass it on?
Think of our DNA as a compression of our mindset and culture. A good example is that while we haven't been a startup for a long time, we still have an entrepreneurial mindset. This is part of our DNA and is preserved through methods like our Team Lead Academy. So I try to pass on as much of our mindset as possible to our new Team Leads.
My trick in doing this is to put the leash in the hands of our account managers. I want them to understand for themselves how important it is to get the perspective of others and to be open with each other. They can also inspire each other to be proactive and creative in finding new solutions. Together with my best practices, our Team Lead Academy thus creates new entrepreneurs who exemplify and pass on our mindset. The resulting "out of the box" mindset allows us to always evolve as a company and act quickly.
What advice do you have for someone who wants to make it in customer service or as a team lead?
Work in a structured manner
One of the most important things I try to instill in our Customer Consultants as they make the career move to team lead is structure. The key to success as a Customer Consultant or Team Lead is in your own calendar. You have to plan ahead of time and always have an overview of where things stand. As a Team Lead, this then becomes even more important with feedback sessions, coaching sessions and more. My tip: Plan your week at least in the previous one.
Develop the right mindset
The right attitude is half the battle in both cases. You have to be committed and proactive. Without a certain ambition, you'll never get far. I always looked for things to work on. As a result, I not only always had new opportunities, but I was always able to learn something new. That's why I think, especially as a Customer Consultant, you should always take the first step and show that you can and want to. Actively demand things. The position as Team Lead certainly doesn't fall from the sky.
Be creative to bring the people you work with to the forefront
For a successful team lead, the team members and their satisfaction are in the foreground. Sure, it's important to somehow achieve your KPIs, but you shouldn't neglect your team to do so. You want to motivate them. That's where a creative mind often makes all the difference. Whether it's a bouquet of flowers, a bar of chocolate or a day off, in creativity there are endless ways to support your team and also members individually. Your gut feeling can often help you here.
Do you also want to get started in Customer Consulting? We will be happy to help you! At audibene, we are always looking for unique talents like Katharina who bring a hands-on attitude. Apply now at our career page and take your success into your own hands.