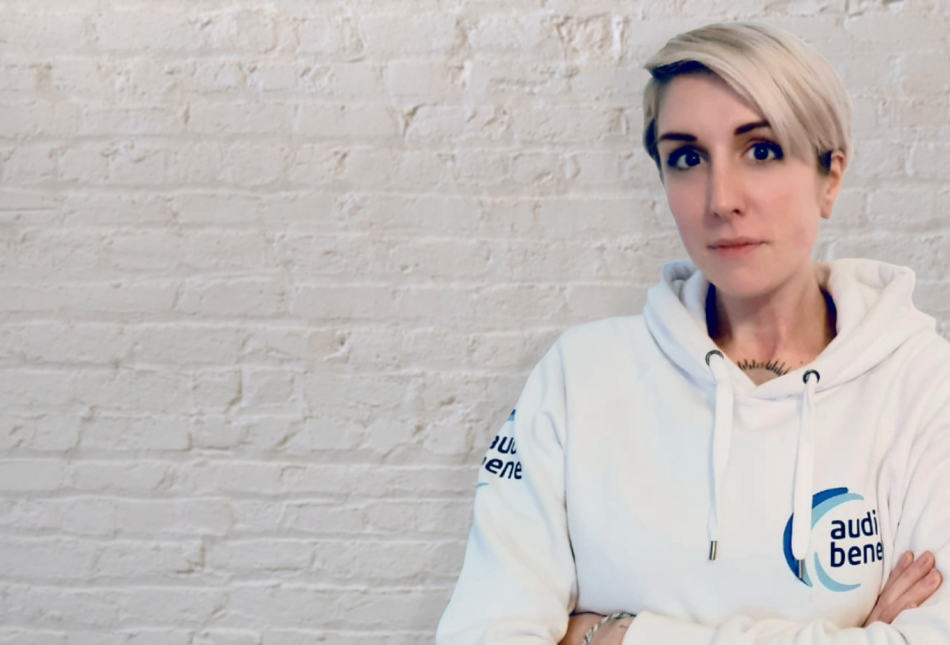 From customer service to team leadership
Helena Winkels started as a customer consultant at audibene in June 2019. With a large portion of motivation, she developed through all levels to become a team leader in the West region. In our interview, you can find out what steps she went through in her development from customer consultant to team lead and what tips she can give you for your career at audibene.
How did you get into sales and how did you get into audibene?
I found my way into sales while still at university: back then I worked behind the bar in a quaint Irish pub and relatively quickly took over shift management for a team of thirty. During my time at university, I decided that I just wanted to get out – discover something completely new – and so my path led me to Bali. Here I was the store manager of a fashion store under palm trees.
After three years – due to my family planning – I returned home. Here my meanwhile 6-year-old twins determined my everyday life. I first worked part-time in retail, where I quickly became a training manager and then a sales manager. However, the working hours were not compatible with our family life and so I went looking for something new again. A former colleague, who was now at audibene herself, then recommended me, which I'm still very happy about.
What was your career at audibene like?
"I always need new challenges because somehow I can never sit still. I like to always have new projects and always tackle something new."
My journey from customer consutlancy to team leadership began at Rookie Camp. As part of the Sales Academy, I learned the basics about our process here. My highlight here was the training period in Berlin, where we got a good feel for the audibene family together with all the rookies. After that, things really got started and I joined the sales team.
My team lead recognized my potential and set me on the path to becoming a team leader herself. I was happy to accept the challenge and we worked towards that goal. We started about a year ago. In the meantime, I worked on various internal projects and gradually took on more responsibility. In October, we started with the Teamlead Academy.
Why did you decide to become a team leader?
Two things were very important to me in making my decision. Firstly, personal aspects. As a single mother with twins, who are mainly bouncing around at home at the moment, everyday life is sometimes difficult. Therefore, work-life balance and flexibility were in the foreground for me. In addition, I had to become aware of whether I would be able to meet the expectations of my team and also my own requirements. In addition, there is the professional area.
Many think that a team lead is relaxed and lets other people do the work. But most people forget that I am responsible for many different areas. For example, I take care of sales analyses, coaching and supporting my team. This makes the team lead a responsible role that is essential to our joint success. You have to be ready for that.
What do you like and find most challenging about customer consultancy?
Quite clearly, the different types of customers. The challenge in customer consulting is to adapt to the different requirements. Since every customer is different, customer advisors need to understand and engage with the person on the other end. With complicated customers, this can be really challenging at times. Fortunately, however, the sympathetic ones outweigh the negative. Some are even so nice that even after the sales process is over, they still ask how I'm doing and let me know how much I've helped them. That's when you know you've done something right.
"Every customer brings their own unique challenges. As a customer consultant, I have to respond to them and see how I can best help. That's exhausting but also fun. So every day is a new adventure."
That's why I still look forward to calling customers today. I particularly enjoy the care calls. Our conversations here are usually so personal and nice that it's often more of a challenge to leave the small talk than to close the sale. It's a similar story with the hearing care professionals. It all contributes to making you feel super comfortable at work.
What tips do you have for a the career at audibene?
"Those who are successful at audibene have an entrepreneurial mindset. We are looking for people who have the courage and will to develop themselves by constantly taking on new challenges."
Everyone who starts at audibene should have a positive attitude towards learning. What we know as a growth mindset, many others perceive as an inner will to develop. Here at audibene, we all have the opportunity to further our education according to our own interests and desires. This is an opportunity that everyone should take advantage of. We are not treading water. Even if some people think it's stolen time because they feel super confident in the field. We can all always learn something and are responsible for taking ourselves to the next level. You have to see and understand the added value in it.
That's also my resolution as a team lead. I want to support and encourage everyone in my team individually so that future challenges can be mastered even more efficiently.
How would you describe your time at audibene in 3 words?
audibene is like a big family to me. We all support each other and always have an open ear. What's more, we're funny and up for any kind of fun. Just watch the commercial with David Hasselhoff again! Last but not least: innovative. We are always looking for new solutions to old familiar problems. That's how we keep evolving.