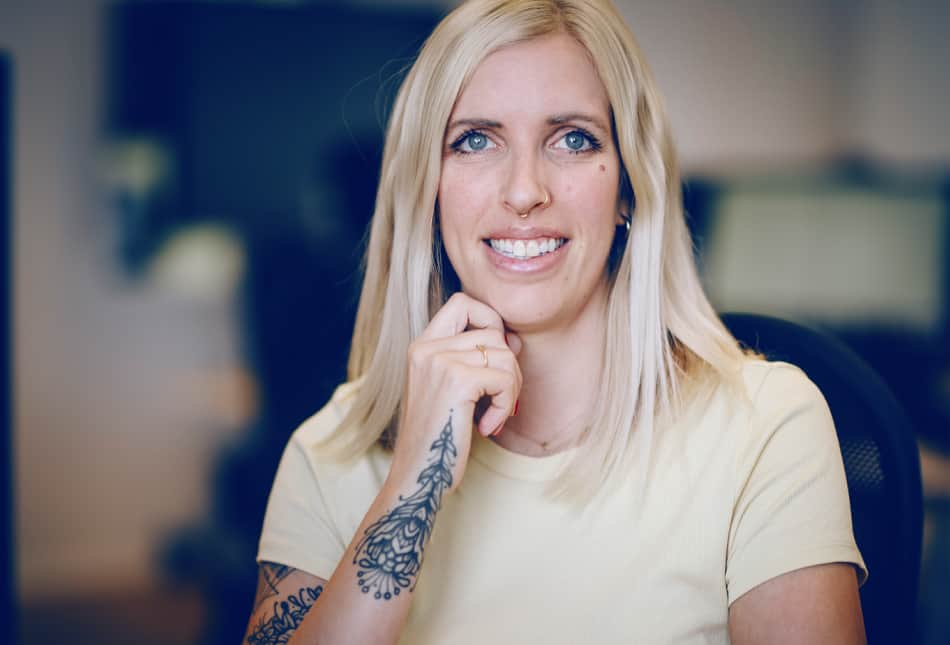 Becoming Head of Tech CRM – Lara's Career Journey
Meet Lara, the Head of Tech Customer Relationship Management (CRM) here at audibene. Arguably, Lara has experienced quite the career journey in our Berlin office. Starting 6.5 years ago as Online Marketing Manager (managing External Email Marketing and CRM), she moved onto CRM and later on Tech CRM. In this blog article, she tells us more about what it means to work at audibene and how the constant opportunities within the business shaped her career path.
Could you tell me about your career journey from tech, to marketing, to mixing them in Tech CRM?
After much deliberation, I decided to study both Computer Science and Design. I really enjoyed the mix of design, maths and computer design studies. For my Master's course, I studied in the field of media and had the opportunity to learn about online marketing. It was interesting, but I was always more fascinated by the tech aspect. Once I became a freelance Front-End Developer, I missed this originally broader focus within my role. Consequently, I quit and started as a Product Owner, developing projects with the tech and marketing team. Following my relocation to Berlin, I was eager for a challenge and joined a small early-stage start-up.
With only 3 employees, I faced a steep learning curve, having to build up everything. Later a friend of mine would tell me about her career at audibene and I joined the online marketing team. This was back when we only had 50 employees globally, so I had the chance to build up the team and also the channel itself. I focused on the technical side again, because I enjoyed implementing tools and automating processes. In fact, I really needed to automate processes because, in the beginning, I worked alone for global CRM! While focussing on both, the content strategy and the technical implementations, I felt more attracted by the tech side of CRM. As we grew, we split the teams and now I'm leading the Tech CRM team!
Tell me more about your current role as Head of CRM.
The Tech CRM team consists of around nine people and four backend developers. We're working on automating processes, implementing CRM tools, email deliverability, and supporting the Content CRM team in the delivery of their automated campaigns. Further, we focus on KPI visualization, because even BI is part of our team consisting of data analysts and a data engineer I've taken over the product owner role, which means that I'm meeting all the stakeholders. Due to my previous business background, I find this quite easy because I know their needs, challenges and what's important to them. To develop our sprints, I gather the stakeholder's input and their priorities together with our tasks and prioritise by business sense.
How has audibene helped you develop over the past 6 and a half years?
From the beginning, I've had a lot of responsibility and ownership in my channel and projects. I was expected to meet business goals, while also having fun. As my career at audibene progressed, I built up the channel, making all the necessary decisions, CRM became my baby. I grew the team slowly, with an intern at first and then a permanent colleague. Throughout the growth stage, Marco Wiesmann (Managing Director) supported me with all people topics, such as salary negotiation and interviewing. Step-by-step, I got more training and he handed it all over to me.
What projects are you currently working on?
Among all projects we are working on, our SMS project is one of our most exciting yet! We are implementing market-leading tools to send out SMS into the system that our CRM managers are working with. Their user interface doesn't change – they set up campaigns and automate them, without needing to know what is going on in the background. We trigger an external tool and an SMS will be sent, enabling us to see if the recipient answers. The data is then cleaned and aggregated, and CRM managers can view the measured KPIs.
We manage the replies, as we've automated the sending of responses. For example, if we send an SMS that invites the recipient to try a new hearing aid that we offer, and they send a positive response, we automatically activate this as a lead. As this is linked to Salesforce, they get a call from a sales consultant one minute later. If the response to the SMS is more complicated, there is a quality manager who can choose to send a custom reply or a response from a dropdown menu which activates another automated process. By now, we have automated up to 93% of responses but we would like to use machine learning to further improve this system next quarter. This will make the process smoother for our customers and have a huge impact on the business! We can scale this and significantly improve the user experience.
Another project is our email design system. It enables users to drag and drop emails instead of working in HTML. While having a similar look and feel, it's much more advanced than tools like MailChimp though, the emails are 100% perfect on all devices. The audibene/ hear.com design is fully integrated into this tool and users can choose their design and build their email campaigns.
Finally, our error dashboard is currently in production. Our CRM managers can use this to see how all automation is functioning. If the numbers in the system are unusual, an automatic alarm is triggered. If a process isn't functioning properly, we can quickly identify the issue through the error dashboard and fix it.
What do you like the most about working for audibene?
What caught me from the beginning was the level of responsibility and trust. Of course, I also really enjoy working with the coolest tools on the market. I also love my colleagues, I think audibene has a knack for hiring people that are smart, motivated, super friendly and with awesome experience.
Do you have any advice for somebody who's applying for a role in Tech CRM at audibene?
Be prepared for responsibility from day one. There's a steep learning curve and we continuously push you to expand your knowledge. Our team is super creative and really hands-on. It's also absolutely essential that new team members are customer-focused. We are working on processes to improve customer experience, so identifying the needs of stakeholders is a very important skill in this role.
Interested in a career at audibene? Here are our open positions.